Discover the Benefits of E-Bikes — Shop Tampa Bay eBikes Today!
 Welcome to Tampa Bay eBikes! We are a leading supplier of e-bikes in the Tampa Bay area, offering a wide selection of models and styles to suit any rider. With our partner brands, we are able to provide top-of-the-line bikes, parts and accessories from leaders in the E-mobility world that share our same values of quality and innovation.
Here at Tampa Bay eBikes we strive to provide an effortless shopping experience with plenty of online resources for research and education as well as an informative staff that is always available for advice. Whether you're new to the world of e-bikes or a seasoned pro looking for the latest, Tampa Bay eBikes has what you need.
Our mission at Tampa Bay eBikes is to provide a comprehensive and supportive resource for everyone interested in exploring the wonderful world of e-bikes. We strive to educate potential customers on the range of products available and empower them with the knowledge needed to make informed decisions. Through our selection of top of the line electric bicycles, parts and accessories from industry leading brands – as well as quality customer service and engaging experiences – we make it easier for riders to find the perfect option for their needs.
Unlock an unforgettable experience with our brand partners.
Aventon – Bird – Dirwin – Himiway – Hovsco – Electric Bike Company – Sondors – V

elotric –

Zugo
SONDORS Fold X $2259
The folding bike everyone's been waiting for has been taken to the extreme. SONDORS Fold X has a 48V 14 Ah battery, that nearly doubles your range, and paired with a 500W motor offers extreme torque, towing capacity, and hill-climbing power.
SONDORS Fold X is the latest game-changer in transportation, and its durable, versatility and eye-catching design are what make it a SONDORS. SONDORS Fold X the ideal choice for extremely smart, convenient riding no matter where you live or roam. In one simple fold and less than ten seconds, SONDORS Fold X is ready for effortless stowage in just about any space.
Superbly sturdy and versatile, SONDORS Fold X is like no other folding electric bike on the market – built with both the city living and off-road adventures in mind, SONDORS Fold X is prepared to vanquish virtually any terrain mother nature can throw at you.
The instant you ride SONDORS Fold X, you know you've never experienced anything like it. With SONDORS Fold X, you have the freedom of full-electric power with a simple press of a thumb throttle, or the option of minimal-effort cycling with electric pedal assist.
You can expect to turn heads with Fold X flawless styling and extreme performance while finding SONDORS Fold X extraordinarily adaptable, portable and convenient. Effortlessly slide SONDORS Fold X into the trunk of a car or along your side on the bus or train, and reach your destination in style without breaking a sweat.
This head-turning, foldable electric bike has set the precedent in portable transportation, and is perfect as your first SONDORS or as an extension to your current SONDORS collection.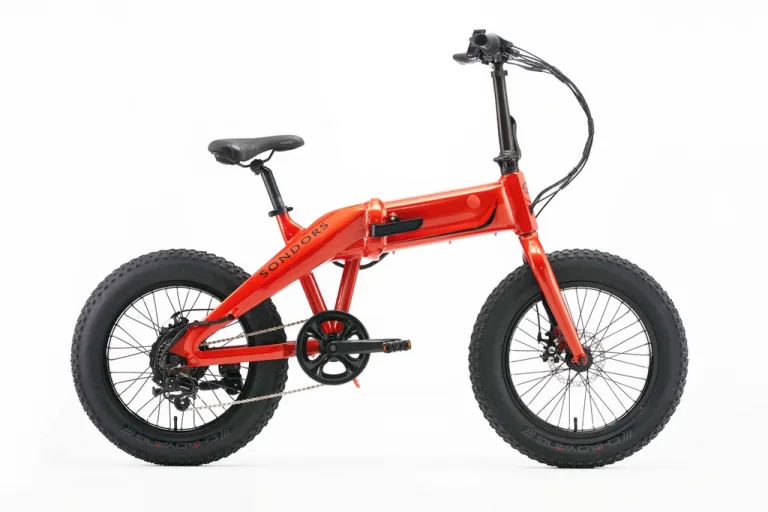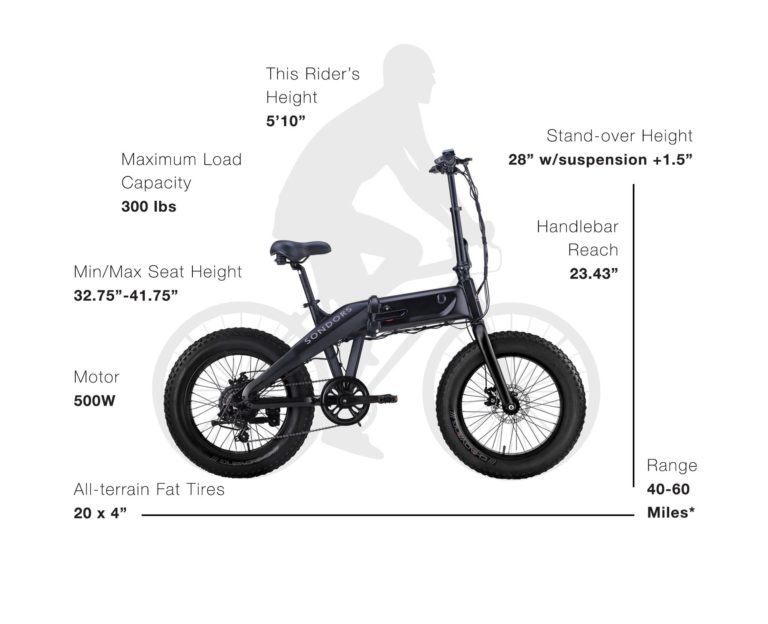 SONDORS X $2259
America's favorite electric bike has been taken to the eXtreme. SONDORS X 48V 17.5 Li-ion battery nearly doubles your range, and when paired with a 500 watt motor, it offers extreme torque, towing capacity and hill-climbing power never-before seen in a SONDORS. And, with speeds up to 20 mph, SONDORS X is sure to add smiles to your miles. 
SONDORS X FRAME
SONDORS X 17.75" frame is one-size-fits-most, made from 100% durable, lighter-weight, aluminum. 
SONDORS X BATTERY
SONDORS X battery is a proprietary design and the largest capacity battery ever offered by SONDORS. Unique to SONDORS, this 48 V 17.5Ah (840whr) lithium-ion battery boasts, LG cells and the SONDORS patented triangular shape, making it ingeniously slender, lightweight, and a perfect fit for SONDORS X. 
3A Smart Charger Included.
SONDORS X MOTOR
SONDORS X proudly boasts power never-before seen in a SONDORS. Paired with SONDORS X 48 V 17.5Ah lithium-ion battery, this 500W motor offers eXtreme hill climbing, acceleration, and towing capacity to power your daily adventure. And with speeds up to 20 mph, SONDORS X will bring smiles to your miles. 
SONDORS X 7- SPEED SHIFTER 
Genuine Shimano® 7-Speed gear cassette with grip shifter. This feature gives SONDORS X an additional 7 gears for increased hill-climbing power, further range variation, and greater terrain adaptability. It's like getting two SONDORS in one.
SONDORS X TIRES
SONDORS X is a showstopper – and its legendary, all-terrain tires are more than the reason. Measuring in at a chunky 26 x 4.9 inches, SONDORS X "fat tires" keep it sturdy and versatile while conquering pavement, sand, dirt or snow.
SONDORS X LCD SCREEN 
SONDORS X comes with an LCD screen upgrade  – this feature supplies five levels of electric pedal assist plus added torque for increased hill-climbing power, greater range, and improved towing capacity. In addition, the LCD screen provides a digital display offering accurate battery level, speed and distance traveled.
SONDORS X RANGE
SONDORS X has an estimated battery range of up to 40 – 60 miles on a full charge. Up to 40 miles of throttle only riding and up to 60 miles when pedalling (with use of electric pedal assist)*.
*All range estimates are contingent upon rider and towing weight, riding style, wind speed and terrain.
SONDORS X WEIGHT
SONDORS X is built with endurance and adaptability in mind. It means business with its all-aluminum frame, all-terrain tires, and readiness to vanquish nearly any landscape. SONDORS X is sure to inspire confidence as it rolls in with conviction at a total approximate weight of 70 pounds.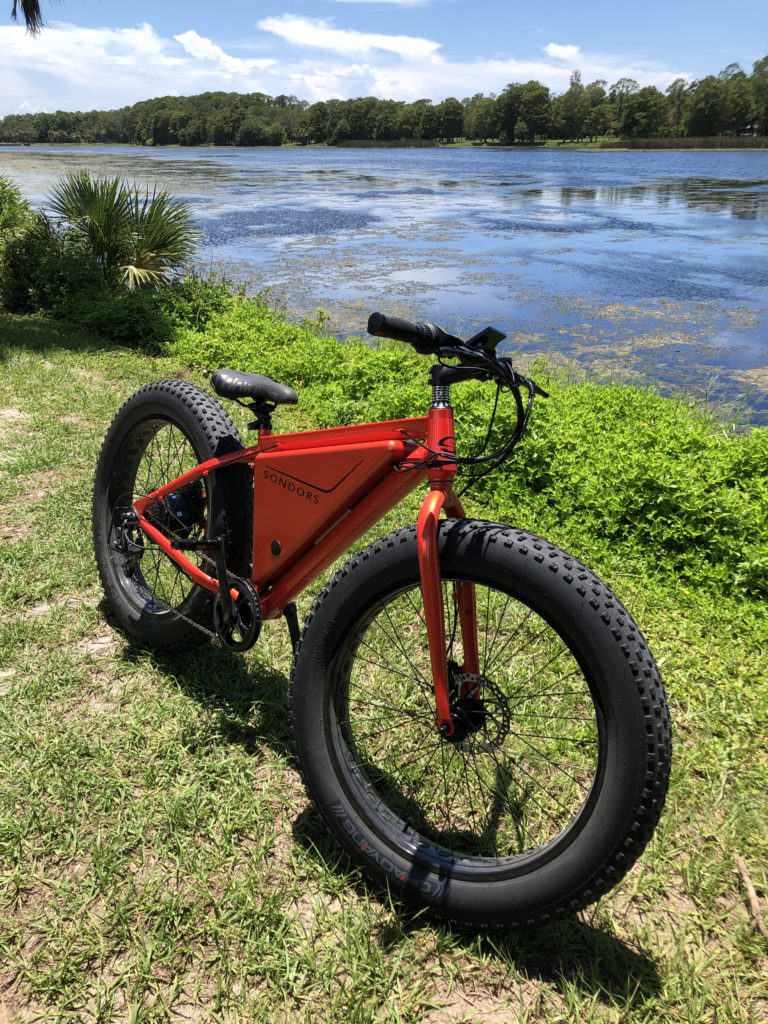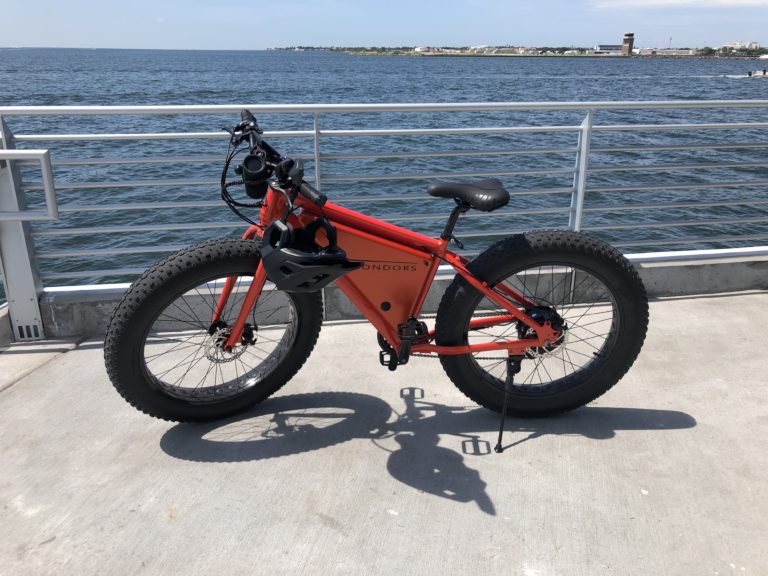 SONDORS Smart Step $1599
SONDORS Smart Step is as fun as it is effortless – with an easy step through the frame, you're off on your quick getaway. SONDORS Smart Step has the head turning design and premium components you love. Plus, in one simple fold, it's half its size – making transporting and stowage as breezy as riding the wind. It's cool, comfortable and competent, bringing you just a step away from being a happy, easy rider.
AVAILABLE IN PEARL OR BLACK