Tampa Bay eBikes Certified Service and Repair Center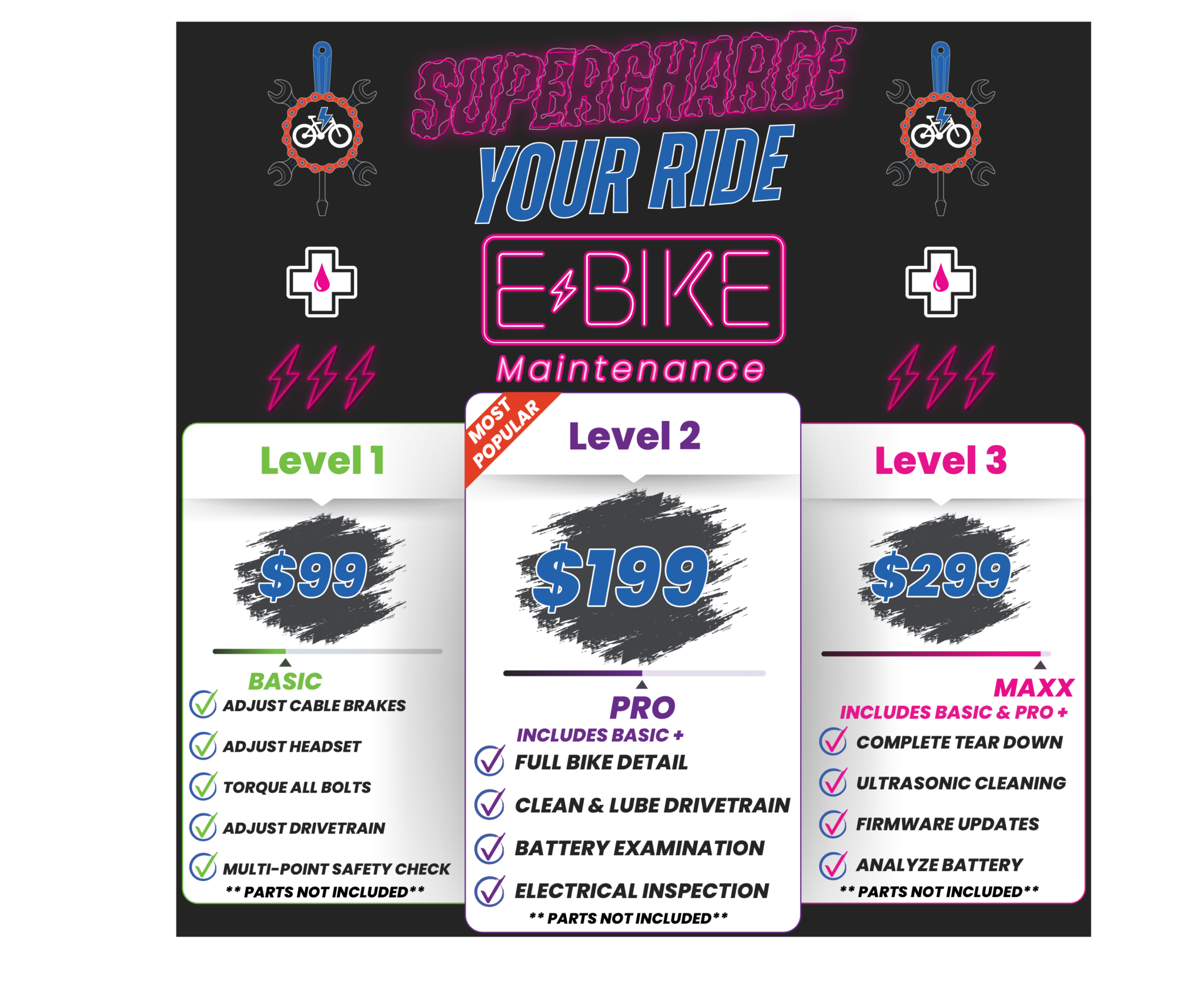 Welcome to Tampa Bay's Premier Frist Certified eBike Service Center!
Tampa Bay eBikes is more than just a store; we are your local, certified light electric vehicle service center in Tampa Bay. Specializing in all types of Micro EVs such as eBikes, hoverboards, onewheels, and scooters, our service center is equipped with cutting-edge technology and staffed by certified technicians who have undergone rigorous training. From routine maintenance to complex repairs, we have the expertise to keep your electric vehicle running smoothly!
We offer a full range of services, from testing your battery's performance to fixing major electrical issues. We also carry a wide selection of replacement parts and accessories so that we can keep your light electric vehicle running smoothly!
How It Works:
1.) Schedule an Appointment: Fill out the form below with your desired location and service needs to book an appointment at your convenience.
2.) Drop Your Vehicle Off: Simply drop your vehicle off at the scheduled location, and our expert technicians will take care of the rest.
3.) Ride On: Pick up your freshly serviced vehicle and hit the road with renewed confidence, ready for new adventures!
Convenient Pickup and Delivery:
Don't have a truck or SUV for transporting your e-bike? We have the solution! Tampa Bay ebikes now offers e-bike Pickup and Delivery! Simply provide us with the location for pick up/drop off in the form below and we will schedule our driver accordingly, normally within 24 – 48 hrs of requests.
Your Electric Vehicle Deserves the Best – Tampa Bay eBikes Delivers!
At Tampa Bay eBikes, we understand the value of your investment in light electric transportation. Our commitment to quality service, genuine parts, and personalized care ensures your vehicle's longevity and performance.
Don't wait for a breakdown; keep your eBike, hoverboard, onewheel, or scooter running at peak performance with Tampa Bay eBikes' certified service center. Schedule your maintenance or repair appointment today and experience the difference of professional eBike care in Tampa Bay!
Ready to roll? Fill out the form below to schedule your service today!
Book Tampa Location
Book Indian Shores Location
Book Dunedin Location
Book Tampa Location
Book Indian Shores Location
Book Dunedin Location